Scar Correction
Inspiring Confidence.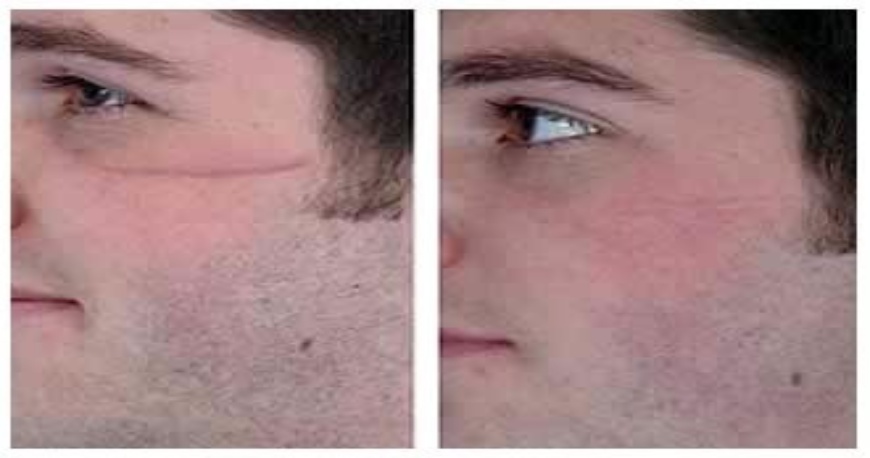 Scar correction is an aesthetic treatment, in which scars are removed by some cosmetic surgery techniques either surgically or non surgically. Which technique would be best suited for a patient and age of the scar is decided after proper counseling and depending upon the anatomy of the patient.
Surgical Scar Correction Techniques
Excision: In this procedure, the cosmetic surgeon makes cuts into the skin to eliminate the portions with scars and then seals the wound with stitches.
Serial Excision: As the name suggests the surgeon has to perform a series of excisions to treat the affected area. This implies a number of small skin surgeries over time in multiple stages to correct the scars.
Skin Grafting: This process requires the transplantation of skin from one part of the body to the affected area. This one is for the extensive wounds and injuries. Transplanted skin is also called skin graft. Skin grafting is simply means replacing a defect in the skin, regardless of the reason of the defect.
Z-plasty: Z-plasty is a plastic surgery maneuver that is used to camouflage the scars by improving them aesthetically. This versatile technique usually breaks up the scars into multiple smaller units so that they become less noticeable. Thus, this advanced method improves the cosmetic condition of the scars or wounds.
Fat Grafting: Autologous fat grafting can be used to pack depressed or concave scars. This treatment has got permanent results.
Non-Surgical Scar Correction Technique
Topical treatment: This process helps in closing of wounds and healing scars through the use of proper gels, tapes and outer compression. This procedure mainly helps in correcting discoloration and the uneven skin pigmentation.
Injectable treatments: Surgeon may use the dermal filler to pack depressed or concave scars. This treatment has got lasting results from a few months to several years depending upon the type of scars and the injectable filler the surgeon chooses to use for treating the scars.
Surface treatments: This one is the common treatment used to enhance the skin to remove scar pigmentation and skin imperfections. This process has some options like:

Dermabrasion: In this process, the surgeon uses the mechanical polishing technique to remove the scars.
Laser Therapy: This method helps to remove the present surface of the skin to allow the formation of new skin which lightens up the scars.
Chemical Peel Solution: This process helps to remove the scars through the use of certain acid solutions which penetrate the skin to change the surface and skin abnormalities.
We at Yuva Aesthetics, Patiala help people to get rid of their scar problem by providing them the best treatment for scar correction. We counsel the patient rightly for the best technique suitable for their skin condition. With the best scar treatment facility in town, be prepared to face the world with better looks and greater confidence.